Pets for Patriots
Discounted adoption fees and veterinary care for troops & veterans
May 27, 2016
The Michigan Humane Society (MHS), is teaming up with Pets for Patriots to give back to the men and women in uniform who inspire us all. The partnership will give active duty personnel and military veterans the opportunity to save even more lives by adopting from the Michigan Humane Society at a significantly discounted rate, and receive discounted veterinary care at MHS veterinary centers for the life of the pet.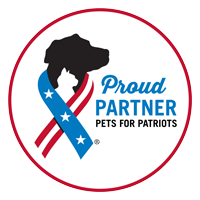 Call Toll-free:
877-4-PET CADET
(877-473-8223)
Service men and women interested in the program must first apply through Pets for Patriots, located online at www.petsforpatriots.org, and provide proof of their military service. Joining Pets for Patriots is free to veterans and service members and approval typically takes one or two business days. Afterwards, the military member can visit any MHS location to receive expert assistance in choosing a new best friend as well as a significant discount on the adoption fee – up to 75 percent off – and a lifetime 10 percent discount on all veterinary care for their newly adopted companion.
Eligible adopters will have either served or are currently serving in any branch of the United States armed forces at any stage of their careers – active, reserve, National Guard, retired or veteran. Dogs or cats two years and older, dogs 40-pounds or larger regardless of age, and special needs dogs and cats will be made available for adoption through the program. MHS will help any veteran in the community in the Pets for Patriots program find a needs- and lifestyle-appropriate pet.
For a listing of adoptable pets, please visit http://www.michiganhumane.org/adoption/.